10 Most Valuable 1990 Bowman Baseball Cards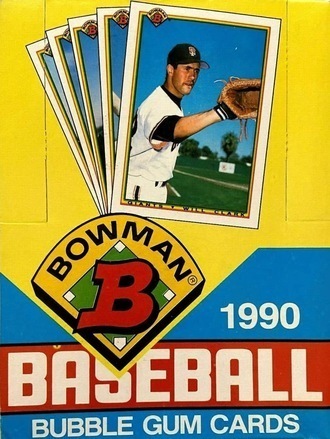 When I look back on 1990 Bowman baseball cards, I think of all the big names, rookie cards, and colorful photography scattered within the 528-card checklist.
On the surface, it can be easy to dismiss this set but look closer, and there is a lot of nostalgia to be revealed within.
And, thankfully, Bowman switched their oversized card design from 1989 to a standard 2-1/2″ by 3-1/2″ layout.
That made them far easier to preserve from damage.
Whether you love 'em or hate 'em, the set certainly has its place in the hobby.
And in this guide, I'll run through the ten most valuable.
Let's jump right in!
More...
Love sports cards?
Get my weekly newsletter with the latest hobby updates delivered straight to your inbox!
Brief disclaimer: the cards on this list will generally not be worth anything...
Like the 1990 Donruss, Fleer, Leaf, Score, Topps and Upper Deck sets, these cards were printed in such huge numbers that the market for them became oversaturated.
The only way they can have much value is by being graded by PSA to be in perfect, gem mint condition (PSA 10).
That means the card needs to be basically flawless.
Now that we got that out of the way, let's take a look at the top ten:
1990 Bowman #320 Frank Thomas Rookie Card
Estimated PSA 10 Value: $100
I remember how excited I was as a kid when we first hooked up the local basic cable package in our house because it meant I could watch the Braves on TBS and Cubs/White Sox on WGN.
None of them were my favorite teams, but hey, baseball is baseball.
Featuring guys like Robin Ventura, Ozzie Guillen, Jack McDowell, and Frank Thomas, those White Sox teams of the early 90s were so fun to watch.
Thomas put up monster numbers year after year, and it seemed like every at-bat would result in a towering drive over the outfield wall.
Given how incredibly productive the former two-time MVP was, it always surprised me that he made just five All-Star teams throughout his career.
With several rookie cards to his name, Thomas remains one of the most popular players of his era throughout the hobby.
1990 Bowman #117 Larry Walker Rookie Card
Estimated PSA 10 Value: $75
Since Larry Walker was an incredibly talented hitter, it's sometimes easy to forget he had a great glove, too.
His resumé boasts seven Gold Gloves to go along with his three Silver Sluggers and three batting titles.
I'll never forget how extraordinary he was during his 1997 MVP season when he belted 49 home runs, scored 143 runs, drove in another 130, and finished with a .366 batting average, just shy of Tony Gwynn's NL-leading .372.
Walker cemented his legacy as one of his era's best players by being elected to the Hall of Fame in 2020, the first Colorado Rockies player to receive the honor.
Since then, his rookie card has seen an increase in desirability, as is natural when any player becomes a Hall of Famer.
1990 Bowman #312 Sammy Sosa Rookie Card
Estimated PSA 10 Value: $50
Another power hitter I watched a lot on WGN, Sammy Sosa didn't see his career take off until he headed to the north side of Chicago to join the Cubs.
Even in high grade, his rookie cards didn't have much value over the past several years, but the recent uptick in the hobby has boosted their value.
For example, you could find this card in a PSA 10 holder a couple of years ago for $10-15, but they've sold for quite a bit more recently.
Like many power hitters of his era, Sosa's legacy remains tarnished by his ties to PED use, and time will tell if he'll ever receive the call to Cooperstown.
1990 Bowman #481 Ken Griffey Jr.
Estimated PSA 10 Value: $50
Griffey made his MLB debut in 1989 and quickly broke out the following season in 1990 when he picked up his first of ten Gold Gloves and made his first of thirteen All-Star appearances.
Plagued by injuries throughout his career, we'll never know just what kind of numbers he could have ended with, but there's no question he was one of the game's all-time greats.
And, along with Walker's 1997 NL MVP run, I'll never forget Griffey's 1997 AL MVP season either.
That year, Griffey led the league in runs (125), RBI (147), home runs (56), and slugging (.646) while batting .304 and picking up a Silver Slugger and Gold Glove along the way.
In a set that features so many headshots and other drab poses, I love that Bowman chose an image of Griffey at-bat as you can almost sense him ready to smash one with that notoriously sweet swing.
1990 Bowman #439 Bernie Williams Rookie Card
Estimated PSA 10 Value: $30
A New York Yankee his entire 16-year career, Bernie Williams didn't start playing until 1991 when he replaced Roberto Kelly mid-way through the season.
Even though he was an integral component of four World Series title runs and has his own plaque in Yankee Stadium's Monument Park, his time in pinstripes wasn't always the most stable.
George Steinbrenner tried to trade Williams on multiple occasions early in his career, but fortunately for Yankees fans, that never happened.
From 1996 to 2002, the switch-hitting Williams went on a tear with both his bat and glove, helping the team to four World Series titles during that period.
Although he isn't a Hall of Famer, his popularity as one of the Yankee's all-time greats keeps his rookie card at a respectable value in a PSA 10 holder.
1990 Bowman #378 Bo Jackson
Estimated PSA 10 Value: $25
Fresh off his 1989 All-Star season with the Royals and nearly rushing for 1,000 yards with the Los Angeles Raiders, Bo Jackson was back and ready for more in 1990.
While he was unable to repeat as an All-Star in 1990, Jackson still managed to blast 28 home runs, the second-highest total of his career.
A bonafide two-sport stud, Jackson possessed amazing speed, power and a cannon for an arm.
Kids who grew up watching him and collecting his cards back then still love Bo Jackson, and his cards remain quite popular to this day.
You gotta love those old baby blue Kansas City Royals uniforms...
1990 Bowman #457 Rickey Henderson
Estimated PSA 10 Value: $25
Rickey Henderson had many incredible seasons throughout his 25-year career, but it was in 1990 when he earned his only MVP award.
The brilliant speedster lit up the base paths to lead the league with 65 stolen bases and 119 runs scored, so this imagery on this card is quite fitting.
Henderson picked up some pop in his bat, too, as he tied a personal career-best with 28 home runs.
Arguably the greatest lead-off hitter the game has ever known, Henderson's cards in any set remain quite popular among hobbyists.
1990 Bowman #492 Juan Gonzalez Rookie Card
Estimated PSA 10 Value: $25
One of the most feared hitters of his era, Gonzalez was not a guy who opposing pitchers were thrilled to see in the batter's box.
Capable of hitting 40+ home runs and knocking in 100+ RBI in any given year, Gonzalez would go on to be named MVP in both 1996 and 1998.
Like Frank Thomas, also a two-time MVP winner, it feels like Gonzalez came up short on All-Star appearances with just three to his name.
Combined with steroid allegations, his steep decline in production in his 30s decline will likely keep him out of any future Hall of Fame consideration.
1990 Bowman #181 Barry Bonds
Estimated PSA 10 Value: $20
By the time the 1990 season rolled around, it was clear that Barry Bonds was talented.
But it was that season when Bonds broke out to become of the game's true superstars.
It was a season of firsts for Bonds: first Gold Glove, first Silver Slugger, first All-Star game and first MVP award.
From that point on, Bonds turned in season after season of incredible production at the plate and in the outfield.
An incredible five-tool talent, Bonds would be considered one of the game's all-time greats even if he hadn't become entangled with PEDs later in his career.
1990 Bowman #460 Jose Canseco
Estimated PSA 10 Value: $20
One of the biggest names in the hobby in 1990, Jose Canseco was always one of the players who collectors wanted to see as they ripped open packs of cards.
The 1986 Rookie of the Year, Canseco set the baseball world on fire right from the start, but his reputation skyrocketed in 1988 when he became baseball's first player to hit 40 home runs and steal 40 bases, picking up the MVP award, to boot.
At the time, he seemed to be on a surefire Hall of Fame trajectory.
However, his reputation suffered tremendously when he openly admitted to using steroids in his 2005 book, Juiced, while also highlighting how bad the steroid scandal was throughout Major League Baseball.
Despite that, Canseco's cards still enjoy somewhat of a cult following in the hobby to this day.
1990 Bowman Baseball Cards In Review
In general, the 528-card set may seem somewhat overlooked compared to the Topps, Fleer, Donruss and Upper Deck sets of the same year.
However, there is still plenty to love as it's packed with all the big names of the era and some great rookie cards.
Eleven different checklist cards that featured artwork of star players like Will Clark, Bo Jackson, Don Mattingly, and Nolan Ryan also provided a nice touch.
If you're looking for a bit of nostalgia and not wanting to spend a lot of money, this set's for you.