13 Most Valuable 1990 Leaf Baseball Cards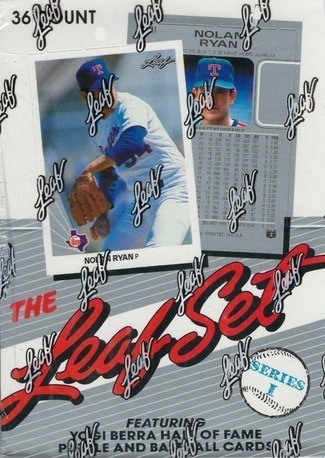 During an era when baseball card designs had grown somewhat routine, 1990 Leaf baseball cards offered collectors a premium collecting experience with beautiful, glossy cards on high-quality card stock.
Like the 1989 Upper Deck baseball card set had done the year before, this set helped up the standards for years to come.
And, collectors haven't forgotten: to this day, the set remains extremely popular throughout the hobby…
Packed with Hall of Famers and several key rookie cards, there is plenty to love within its 528-card checklist.
And in this guide, I'll run through the thirteen most valuable.
Let's jump right in!
More...
Love sports cards?
Get my weekly newsletter with the latest hobby updates delivered straight to your inbox!
Let's be clear: most of the cards from this set do not have any value these days.
Like the 1990 Bowman, Donruss, Fleer, and Topps sets, large print runs saturated the market with these cards, driving down their values.
So, for the cards on this list to be worth much, they'll have to be graded by PSA to be in perfect, gem mint condition.
That means the card needs to be flawless.
Now that we got that out of the way, let's take a look at the list:
1990 Leaf #300 Frank Thomas Rookie Card
Estimated PSA 10 Gem Mint Value: $200
Frank Thomas rookie cards continue to be some of the most sought after cards of the early 1990s, and they'll likely remain that way for quite some time.
The Big Hurt was one of the most dominant hitters of his era, possessing the ability to hit for both power and average.
And it took him very little time to showcase his remarkable talents at the highest level.
During his first full season in the Majors in 1991, Thomas finished third in MVP voting after tallying 32 home runs, 109 RBI, a .318 batting average while leading the league in walks (138), OBP (.453), and OPS (1.006).
After nineteen seasons in MLB, Thomas finished with 521 home runs, 1704 RBI, and a .301 batting average, making him an easy addition to the Hall of Fame.
His rookie card is the most desirable in the set and exhibits a fantastic image of a young Thomas taking a powerful cut.
1990 Leaf #245 Ken Griffey Jr.
Estimated PSA 10 Gem Mint Value: $125
When the 1990 season rolled around, The Kid was already one of the baseball's hottest names.
Sure, he wasn't putting up the incredible numbers he would later in the decade, but the signs were indeed there that Griffey was an above-average talent.
Way above average...
Blessed with one of the smoothest and most efficient swings the game has ever seen, he would end up with 630 home runs and 1,836 RBI over his 22-year career.
Had he not suffered through countless injuries during his early 30s, he likely would've challenged the records for both of those statistical categories.
Today, his cards are still popular among collectors, making him one of the top names in any set in which he appeared.
1990 Leaf #325 Larry Walker Rookie Card
Estimated PSA 10 Gem Mint Value: $125
After Walker's election to the Hall of Fame in 2020, his rookie cards have experienced a decent uptick in value, making this particular one easily worth over $100 in top condition.
Year in and year out, Walker was one of the game's most consistently great hitters as he would win three batting titles and finish his career with a .313 batting average.
He was also brilliant on defense, as evidenced by his seven Gold Glove awards.
I'll never forget his incredible performance in 1997 as he led the league in home runs (49), scored 143 runs, drove in 130 more, and batted .366 on the year.
Had his Colorado teammate, Andres Galarraga, not raked in 140 RBI and had Tony Gwynn not batted .372, Walker may have picked up the Triple Crown that year.
As a consolation prize, of sorts, Walker was named National League MVP.
1990 Leaf #220 Sammy Sosa Rookie Card
During the late 1990s, during and after the home run chase between McGwire and Sosa, this card was on fire.
Both would break Roger Maris's single-season home run record in 1998, McGwire finishing with 70 and Sosa with 66, but we all know now that those numbers live under a cloud of PED smoke.
Regardless, since the release of ESPN's Long Gone Summer, Sosa's rookie cards have seen a resurgence in value.
For years, this card would sell for around $30 or less in a PSA 10 holder but now seems to be leveling off around the $90 mark.
Given how Sosa's legacy is tied to his towering home runs, I've always found it slightly amusing that his Leaf rookie card shows him bunting.
1990 Leaf #359 Deion Sanders Rookie Card
Estimated PSA 10 Gem Mint Value: $50
With blazing speed and incredible agility, Deion Sanders brought his talents to the highest levels of both professional baseball and football.
While the two-sport superstar is most notable for his shutdown defense in the NFL, Prime Time also had a successful MLB career, most notably with the Braves and Reds.
Sanders is the only player to hit an MLB home run and score an NFL touchdown in the same week.
He's also the only person to ever play in both a World Series and Super Bowl.
There's no question he was one of the most gifted athletes of any era, and his cards from both sports remain popular among hobbyists.
1990 Leaf #297 David Justice Rookie Card
Estimated PSA 10 Gem Mint Value: $40
The 1990 National League Rookie of the Year, David Justice played fourteen seasons in the Majors, earning two Silver Sluggers, three All-Star selections, and two World Series rings along the way.
One of the most popular players throughout the 1990s, he was also one of the league's most productive hitters during his time in Atlanta and Cleveland, seemingly always good for around 25 home runs and 90 RBI.
You might also remember Justice, played by actor Steven Bishop, being highlighted in the movie Moneyball for his veteran role on the historical 2002 Oakland Athletics team led by Billy Beane's unconventional strategy.
1990 Leaf #125 Bo Jackson
Estimated PSA 10 Gem Mint Value: $40
Like Sanders, Bo Jackson will forever be immortalized as a rare, two-sport superstar in both the NFL and MLB.
He was also a pop culture icon, having appeared in the legendary "Bo Knows" Nike ad campaign and being unstoppable in the Tecmo Super Bowl video game for the original Nintendo.
Sadly, his football career came to an end when he injured his hip during a game against the Bengals in 1991.
Unwilling to extend his time in Kansas City, the Royals would release him in March that year before the White Sox quickly offered him a three-year contract.
This card is one of the last to feature Jackson in a Kansas City Royals uniform where he was extremely successful, having earned his only All-Star selection the season before in 1989.
1990 Leaf #180 Albert Belle Rookie Card
Estimated PSA 10 Gem Mint Value: $35
Only three other players hit more home runs than Albert Belle's 351 dingers during the 1990s: Mark McGwire, Sammy Sosa, and Ken Griffey Jr.
We know that two of those guys had a lot of help from PEDs.
But, Belle wasn't exactly known for playing cleanly either, although he was more known for using corked bats instead of PEDs.
The fact is, Belle was one of the most consistently productive hitters of the 1990s as he hit no fewer than 28 home runs and drove in no fewer than 95 runs from 1991 to 1999.
In 1995, he notched an incredible 52 doubles and 50 home runs, becoming the only player in MLB history to finish the season with 50 or more doubles and home runs in a single season.
One of the most vivid memories I have about Albert Belle is that my brother caught one of his home run balls during a 1997 White Sox game as we were seated in left field.
1990 Leaf #21 Nolan Ryan
Estimated PSA 10 Gem Mint Value: $30
At the age of 43, Ryan's second season with the Rangers in 1990 was quite successful as he went 13-9 while leading the league in strikeouts (232), WHIP (1.034), H9 (6.0), and SO9 (10.2).
The fireballer is showcased perfectly on this card as he focuses intently on delivering the ball to home plate.
If you look closely at his grip on the ball, you'll notice he's throwing his circle change-up, a pitch he famously threw with an inside out cutting motion, similar to the delivery of a screwball.
He remains one of the most popular baseball players throughout the hobby, and his cards from any decade are still in top demand.
1990 Leaf #265 Nolan Ryan No Hit King
Estimated PSA 10 Gem Mint Value: $25
During the 1980s and 1990s, many card manufacturers began producing cards that would highlight an individual player's notable accomplishments.
In this case, Leaf wanted to pay tribute to Nolan Ryan's record sixth no-hitter that he threw on June 11, 1990, against the Oakland A's.
That performance put him two ahead of Sandy Koufax's career four no-hitters for the most in MLB history.
Little did we know then, but Ryan would shockingly throw another one on May 1, 1991, against the Toronto Blue Jays, giving him seven over his iconic career.
1990 Leaf #160 Rickey Henderson
Estimated PSA 10 Gem Mint Value: $25
In one of the best seasons of his legendary career, Rickey Henderson would light up the league and be named the 1990 American League MVP.
That season, Henderson set career highs in home runs (28), doubles (33) while leading the league in runs scored (119), stolen bases (65), OBP (.439), and OPS (1.016).
He was nothing short of electric on the baseball field.
Arguably the best lead-off hitter in the game's history, his compact, powerful stance is on full display on this card as he waits patiently to rip into the ball.
Like Ryan, his popularity and iconic status make his cards among the most desirable in any set in which he appeared.
1990 Leaf #91 Barry Bonds
Estimated PSA 10 Gem Mint Value: $25
Time will tell if Bonds ever receives the Hall of Fame call as his career and legacy will forever be tied to PEDs.
However, there is no question that he was one of the most gifted and talented players who ever stepped onto the baseball field, with or without PEDs.
Like Griffey Jr., Bonds had incredible five-tool abilities and was a constant threat at the plate.
In his fifth season with the Pirates, Bonds broke out in a big way, earning his first All-Star selection, Gold Glove, Silver Slugger, and MVP award.
1990 Leaf #483 Randy Johnson
Estimated PSA 10 Gem Mint Value: $20
Last, but certainly not least, is the flame-throwing Randy Johnson.
After a slow start with the Montreal Expos, the team traded Johnson to the Seattle Mariners mid-way through the 1989 season, where his Hall of Fame career began to unfold.
In 1990, Johnson would go 14-11 with a 3.65 ERA and 194 strikeouts while earning his first of ten All-Star selections.
He also led the league in walks in 1990 with 120 and would do so again in 1991 and 1992.
His raw power was undoubtedly there, but his control obviously needed a bit of work, similar to how Sandy Koufax's career began.
We all know how Johnson's career turned out, though, as he would lead the league in strikeouts nine times, collect five Cy Youngs, win 303 games, and finish second all-time in strikeouts with 4,875.
1990 Leaf Baseball Cards In Review
Distributed in two series, the 528-card checklist was somewhat small in quantity for its time, but more than makes up for it in quality.
Rookie cards of Frank Thomas, Sammy Sosa, and Larry Walker lead the way in a set loaded with the era's biggest names.
It may be easy to forget, but this set was a game-changer when it first made its way into the hobby.
Gone were the days of merely printing the same old routine and somewhat bland sets.
Card manufacturers had to up their standards to compete from this point on as collectors wouldn't settle for less.
The hobby owes a lot to this set.