64
40 Most Valuable Football Cards: The All-Time Dream List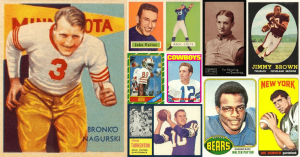 The most valuable football cards in the hobby can easily fetch upper five and six figure price levels.
Collectors simply go crazy over some of these cards.
Scarcity and fierce auction bidding competition can keep hobbyists searching for some of them for years.
If you're lucky enough to own one or more cards on this list then you've got something special.
While not as valuable in general as baseball cards, there's no question that collectors are willing to pay big bucks to get their hands on the cards on this list.
To build this list, we relied on PSA's Sports Market Report online price guide to include any football card they estimate to be worth more than $15,000 on the open market.
Let's jump right in!
More...
Are you selling sports cards that were produced from 1868 - 1975?
If so, then please fill out the form below and I'll be in touch right away. Or, feel free to call/text me at 305-684-6680!
One last thing before we get started...
If you have any of the cards on this list at all then please, please, please make sure you are storing them using some kind of sleeve or holder.
I wrote a guide on the best card sleeves and holders to use for your collection so be sure and check it out.
The 40 Most Valuable Football Cards Guide
Here's the complete list of the forty most expensive football cards. Each short summary gives a brief explanation of the history of the card, what makes it so valuable, and is accompanied by a look at the card itself.
I hope you enjoy reading the list as much as I did creating it!
1935 National Chicle Bronko Nagurski Rookie Card
Estimated PSA 9 Value: $750,000
Bronko Nagurski was one of the most feared runners the game has ever seen.
One of the NFL's original Hall of Fame inductees in 1963, his 1935 National Chile rookie card is also the most valuable football card in the hobby.
This set is notoriously difficult to put together and since his is a high number card in the set (#34 out of 36 total cards) it is even tougher.
Nagurski played for the Chicago Bears from 1930-1937 (and briefly returned in 1943) but is shown on the card in his University of Minnesota uniform where he was an All-American.
2000 Playoff Contenders Championship Ticket Tom Brady Rookie Card (Autograph)
Estimated PSA 9 Mint Value: $450,000
One of two autograph rookie cards on this list, Tom Brady's 2000 Playoff Contenders Championship Ticket has become red hot over the years after he's racked up six Super Bowl championships.
This is the Tom Brady rookie card everyone dreams of owning.
This card used to sell for less than Peyton Manning's card from the same set but it's no longer even close: Brady's card has surpassed his by a long shot.
Recently, one of these cards in a BGS 9 holder was auctioned off for a jaw-dropping $400,100.
1965 Topps Joe Namath Rookie Card
Estimated PSA 9 Value: $150,000
Joe Namath's rookie card may not be the most valuable in the hobby but it's arguably the most popular of all football cards.
If there is a face to football cards, this is probably it.
Measuring in at 2 1/2″ x 4 11/16″, the card's design is much larger than typical sports cards and that can usually expose it to more risk of wear and tear.
And there's even a "butterfly variation", as collectors often call it, that has a very noticeable print mark on the back of Namath's left hand.
The variation does not impact its overall value too much, though.
Here you see the regular version on the left and the variation on the right.
1958 Topps Jim Brown Rookie Card
Estimated PSA 9 Value: $225,000
The 1958 Topps Jim Brown rookie card is also an extremely popular card among collectors.
"Jimmy" is widely considered the greatest fullback to ever set foot on the gridiron.
Centering and print defects are typically the toughest challenges for anyone collecting this card so high grade examples fetch big money on the auction block.
1894 Mayo Anonymous (John Dunlop, Harvard)
Estimated PSA 9 Value: $100,000
The N302 Mayo's Cut Plugs are considered the very first football card set ever produced and feature well-known Ivy League players of the time period.
Harvard legend John Dunlop's card, however, contains neither his nor his team's name.
Therefore dubbed the "Anonymous" card, it's the key to the set and one of the most wanted cards in the hobby.
1957 Topps Johnny Unitas Rookie Card
Estimated PSA 9 Value: $140,000
The Topps 1957 football set is instantly recognizable with its horizontal layout and dual-pane design.
And the Johnny Unitas rookie card, along with those of Paul Hornung and Bart Starr, is the key to this legendary set.
They're not scarce since they were part of the double-printed second series run but high grade examples are extremely valuable.
Print snow and centering are usually the two key factors that prevent the card from attaining high grade status.
1933 Goudey Sport Kings Jim Thorpe
Estimated PSA 9 Value: $85,000
Technically, this card is not a football card.
The 1933 Goudey Sport Kings set featured star athletes of the day across several different sports.
But since Thorpe is depicted as a football player on the card, it made our list.
Collectors love this incredibly popular set and Thorpe's card is considered to be one of its most well-designed.
1957 Topps Bart Starr Rookie Card
Estimated PSA 9 Value: $125,000
Not far behind the Unitas rookie card of the same set is Bart Starr's 1957 Topps rookie card.
Hobbyists love Bart Starr football cards in general but it's no doubt his rookie that they mainly go after.
The card features a nice head shot of the legendary Packers quarterback on the left and an image of him ready to release the ball on the right.
1948 Leaf Sid Luckman Rookie Card
Estimated PSA 8 Value: $46,500
The 1948 Leaf set is the most well-represented on this list and Luckman's rookie sits atop them all in terms of value.
The card design features bright coloration and a nice image of Luckman tossing the ball to a would be receiver.
While many cards from this set come in multiple variations (you'll see several examples later), Luckman is shown on only one design.
1998 Playoff Contenders Ticket Peyton Manning Rookie Card (Autograph)
Estimated PSA 10 Value: $42,500
All but four cards on this list date 1986 or older and Manning's 1998 Playoff Contenders Ticket autograph rookie is the first of them.
Manning put up historic numbers on the way to winning a Super Bowl with two different teams.
The most popular player of his era, Manning's rookie cards have held their value–especially this one.
1948 Leaf Bobby Layne Rookie Card
Estimated PSA 9 Value: $45,000
Bobby Layne's 1948 Leaf rookie card comes in two variations: one where he is wearing yellow pants and one with red pants.
He actually spelled his name "Bobby" but Leaf chose to spell it "Bobbie" on his card instead.
And they threw in his "Blonde Bomber" nickname as well.
The variations, spelling, and nicknames all combine to make this a great football card and one of the most desired in the hobby.
1948 Leaf Chuck Bednarik Rookie Card
Estimated PSA 9 Value: $30,000
Another great card in the 1948 Leaf set is Chuck Bednarik's rookie and boy does this card pop.
The bright yellow background helps Bednarik practically explode off the card from his three point stance.
Bednarik was a feared defender but his rookie card is not.
Collectors love it.
1972 Topps Roger Staubach Rookie Card
Estimated PSA 10 Value: $30,000
Roger Staubach may not have gotten a chance to play profession football until he was 27 years old but that didn't stop him from having a legendary career.
The Cowboy superstar led the way to two Super Bowl victories and put up one of the best career quarterback ratings of all-time.
His rookie card doesn't suffer from as many condition challenges as others on this list.
But being one of the most popular players in the history of the sport in a very well-liked set, Staubach's rookie can command a lofty price tag.
1952 Bowman Large Jim Lansford Rookie Card
Estimated PSA 9 Value: $23,000
Jim Lansford looks flat out mean on his 1952 Bowman rookie card.
The card has strong eye appeal overall as Bowman was notorious for producing beautiful card designs.
Lansford isn't the most well-known player on the list but it's the difficulty of finding this card in high grade that makes it so expensive.
Set builders looking to complete this popular set will have a tough run with Lansford's card as it is the last in the set at #144.
That makes it not only a short print but also more prone to damage given its position on the printing sheet.
1935 National Chicle Knute Rockne
Estimated PSA 9 Value: $22,000
Knute Rockne is on the short list of greatest football coaches of all-time having won six national championships at Notre Dame.
He likely would have won even more had he not been killed in a plane crash in 1930 at the young age of 43.
Most will remember Rockne for his locker room speeches and ability to motivate–his famous "win one for the Gipper" halftime speech to propel Notre Dame to a comeback win against Army.
His 1935 National Chicle card faces serious centering issues and is a key to an overall tough set in general.
1957 Topps Dick "Night Train" Lane Rookie Card
Estimated PSA 9 Value: $19,600
Dick "Night Train" Lane was arguably one of the most feared tacklers to ever play defensive secondary in the NFL.
He would flat out thump opposing offensive players with punishing hits.
His 1957 Topps rookie card is one of several key cards from this legendary set.
The seven-time Pro Bowler is shown on the right side of the card doing what he did best: intercepting the football.
Lane still holds the record for most interceptions in a single season with 14–a feat he accomplished as a rookie in 1952 with the Los Angeles Rams.
1950 Topps Felt Backs Joe Paterno Rookie Card
Estimated PSA 9 Value: $17,500
Controversy rapidly overtook Paterno late in his coaching career at Penn State but his 1950 Topps Felt Backs rookie is still incredibly valuable.
It's the only trading card to depict Paterno as a player and measures only 7/8″ by 1 7/16″.
The back side of each of the tiny cards in this rare set of collegiate players show a small felt pennant from each player's school.
1971 Topps Terry Bradshaw Rookie Card
Estimated PSA 9 Value: $18,500
Bradshaw goes down in history as one of the winningest and most successful postseason players in football history.
Over the course of his career he led the Pittsburgh Steelers to eight AFC Championships and four Super Bowls.
When it comes to sports cards there is perhaps no bigger threat to condition and eye appeal than colored borders.
The red borders surrounding Bradshaw's image on this card make it a beautiful card but much more prone to wear and chipping along the edges and corners.
Find a Terry Bradshaw rookie card in mint condition and you've got a pricey rookie card of an NFL legend on your hands.
1986 Topps Steve Young Rookie Card
Estimated PSA 10 Value: $13,500
Collectors either love or hate the 1986 Topps football card design.
The green borders with white stripes meant to represent a football field can be great for some but odd for others.
Although the Jerry Rice rookie card in this same set is no doubt the most popular and sought after, PSA 10 Gem Mint examples of the Steve Young rookie card can actually cost you more.
It's card #374 placing it at the back end of the 396-card set making it a bit tougher to locate in PSA 10 condition.
1948 Leaf Sammy Baugh Rookie Card
Estimated PSA 9 Value: $17,500
Although Sammy Baugh actually has another recognized rookie card to his name, his 1948 Bowman issue, its the 1948 Leaf issues that is the more desirable of the two.
It's also one of the keys to this very popular football card set.
Known for his accuracy, Baugh led the league in passer rating a record six times.
He'd also take the Washington Redskins to two NFL Championship victories in 1937 and 1942.
Amazingly, he also played defensive back and punted.
He actually still holds the record for yards per punt at 51.4 yards which he accomplished in 1940.
Baugh had a heck of a career.
1957 Topps Paul Hornung Rookie Card
Estimated PSA 9 Value: $22,500
The last 1957 Topps card on our list is the Paul Hornung rookie card.
A high number card in a legendary set, this card of the famous back is also high on many collectors' want lists.
While he played running back for the Packers, he is shown dropping back for a pass on the card.
Hornung was known for his incredible versatility and could throw well, but he didn't have to since that was Bart Starr's job.
Hornung is one of only a few players to have won both the Heisman Trophy and NFL MVP awards.
2000 SP Authentic Tom Brady Rookie Card
Estimated PSA 10 Value: $17,500
The second Brady rookie card on this list, this one is from the 2000 SP Authentic set but doesn't come with his autograph.
That drops its price compared to his other autographed card on this list but collectors still will pay high prices for this one.
It's rare for modern cards to be so valuable but how can you argue given the career Brady has had?
1979 Topps Ozzie Newsome Rookie Card
Estimated PSA 10 Value: $16,000
This one may be one of the biggest surprises on the list but scarcity is key here with this Hall of Famer's rookie card.
Newsome had a standout career as a tight end for the Browns and helped lead them to three AFC Championship games in the late 1980's.
The bright yellow background gives the card some nice pop.
With only two PSA 10 copies currently in circulation, don't be surprised if you see them top $15,000 if they even come up for sale at all.
1950 Bowman Otto Graham Rookie Card
Estimated PSA 9 Value: $13,500
Graham only played ten years but he made them count while leading the Cleveland Browns to six division and three NFL Championship titles from 1946 to 1955.
A true offensive force, Graham could attack both through the air and on the ground.
Staining on the reverse side and centering tend to be the biggest condition obstacles for collectors of this card.
It's a key to the 1950 Bowman set and the only one to make this list.
1962 Topps Mike Ditka Rookie Card
Estimated PSA 10 Value: $35,000
When you think of football players who just looked flat out tough and mean, Ditka is surely high on the list.
After refining the tight end position as a player, Ditka also went on to a successful coaching career with the Bears.
The 1962 Topps design is creative in its layout but the black borders leave it prone to easily showing chipping and wear.
Ditka has made enormous contributions to the game both on and off the field and his rookie card is a great one to collect.
1976 Topps Walter Payton Rookie Card
Estimated PSA 10 Value: $16,000
I remember watching a Sports Illustrated documentary on Walter Payton as a kid that spoke about how relentless and tough Payton was.
Rather than run out of bounds on a play he'd make sure and cut back to try and run over a defender for at least one more yard.
It's amazing that he played in 186 consecutive games from his rookie season on with that running style.
Payton goes down as one of the best running backs of all time and a fan favorite.
If you can find his 1976 Topps rookie card centered with sharp corners, then you've got a very valuable asset on your hands.
1948 Leaf Doak Walker Rookie Card
Estimated PSA 9 Value: $15,000
One of several Hall of Famer rookie cards in the set, Doak Walker's is yet another 1948 Leaf football card to make the list.
It packs the same vibrant punch as many cards in the set with its sharp yellow background and clean image of Doak dropping back for the pass.
Unlike other cards in the set, this is the only variation you'll find of the former Heisman Trophy winner and two-time NFL champion.
Since 1990, the "Doak Walker Award" has been given to the NCAA's most outstanding running back.
Print quality and centering are typical challenges for this card.
1948 Leaf Bob Waterfield Rookie Card
Estimated PSA 9 Value: $15,000
Bob Waterfield's 1948 Leaf rookie card can be found with his name in either black or white lettering.
The white letter card is far more scarce than the black version.
The Hall of Fame quarterback led the Rams to NFL Championships in 1945 and 1951.
Another highly sought after card in the ever popular 1948 Leaf set.
1948 Leaf Leo Nomellini Rookie Card
Estimated PSA 9 Value: $15,000
The 1948 Leaf Leo Nomellini rookie card features the ten-time 49er Pro Bowl defensive tackle in either a maroon or red jersey atop a blue background.
The red jersey variation is the more rare of the two.
Amazingly, Nomellini would also wrestle professionally in the off-season as Leo "The Lion".
His rookie card shows a great action shot of him charging in for a tackle.
1888 N162 Goodwin Champions Harry Beecher
Estimated PSA 7 Value: $15,000
The 1888 N162 Goodwin Champions cards came with Old Judge and Gypsy Queen cigarettes and featured athletes from a variety of sports.
Harry Beecher's card is the only football card in the set technically making it the oldest known football card in the hobby.
The card measures roughly 1 1/2″ by 2 5/8″ and remains a must-have for the high-end pre-War collector of sports cards in general.
1981 Topps Joe Montana Rookie Card
Estimated PSA 10 Value: $12,500
Many quarterbacks have been faster on their feet and possessed far stronger throwing arms than Joe Montana.
But what Montana did perhaps better than anyone in the history of the sport was command the game.
His football IQ was off the charts and he used it to lead the 49ers to four Super Bowl victories in his career.
Centering is the biggest challenge for this card in an otherwise modest set.
The value of 1981 Topps Joe Montana rookie card is driven largely due to how popular he was as the set itself is relatively inexpensive to put together.
1935 National Chicle Bill Tosi
Estimated PSA 8 Value: $15,000
Considered to be one of the most difficult of any of the 1935 National Chile football cards to find in any grade, a high grade Bill "Bull" Tosi will cost you a pretty penny.
The set's art deco design really shines through on Tosi's card with its pastel coloration.
The set is considered to be the first true football card set in the hobby since it featured football players only.
Typical print and centering challenges are the biggest hurdles for collectors of this card.
1935 National Chicle Luke Johnsos (Johnson)
Estimated PSA 9 Value: $14,000
Another card from the legendary 1935 National Chicle set, this scarce high number card is another case of a card's value being driven based on a printing error.
If you look at the bottom right corner of the card, you'll notice that Luke Johnson's last name is actually spelled "Johnsos".
Nevertheless, the card still possesses great imagery and plenty of action.
1948 Leaf Charlie Conerly Rookie Card
Estimated PSA 9 Value: $12,500
Charlie Conerly played quarterback for the New York Giants from 1948 to 1961 earning Rookie of the Year honors in 1948, MVP honors in 1959, and a Super Bowl championship in 1956.
Despite his impressive career, he never quite made it into the NFL Hall of Fame.
His 1948 Leaf rookie card is part of the scarce high number second series print run in the set making it a very valuable football card.
1960 Topps Johnny Unitas
Estimated PSA 9 Value: $12,000
This card has always seemed odd to me just because of the weird look on Unitas' face.
He looks like he's staring into the camera rather than the typical smile we'd see.
Imagery aside, the card is still pricey and other than Tom Brady he's the only player to appear on this list twice.
1960 was a standout season for Unitas as he put up over 3,000 yards in one season for the first time in his career finishing with a career single season best yards per game average of 258.3.
1973 Topps Franco Harris Rookie Card
Estimated PSA 10 Value: $12,000
Harris was named Offensive Rookie of the Year in 1972 and didn't look back.
He'd go on to put up an impressive 12 seasons with the Pittsburgh winning four Super Bowls with them during that time.
Most recognize Harris for the "Immaculate Reception", a deflected pass that Harris caught and ran for a touchdown during the 1972 AFC divisional playoff game versus the Oakland Raiders.
Centering and print quality are the toughest challenges for this rookie card of the famous Pittsburgh Steeler.
1962 Topps Fran Tarkenton Rookie Card
Estimated PSA 9 Value: $11,500
Another 1962 Topps rookie card to make this list is that of famed Viking passer Fran Tarkenton.
Known as much for his ability to scramble as he was for passing, Tarkenton would lead the Vikes to three Super Bowl games in his career.
Unfortunately, he never could quite come away with a championship.
The Fran Tarkenton rookie card features great action and coloration overall.
But like any card in this set, the black borders present collectors with many wear and chipping headaches.
1948 Leaf Steve Van Buren Rookie Card
Estimated PSA 9 Value: $11,500
The last 1948 Leaf football cards on this list is the Steve Van Buren rookie.
You can actually find this card in five different variations: combinations of either blue jersey / green sock, green jersey/blue sock, green jersey/green sock, green jersey/yellow sock, or yellow jersey/yellow sock.
That really speaks to the amount of printing issues this set faces better than any other 1948 Leaf card on this list.
The famous Philadelphia Eagles back won four rushing titles and two Super Bowls in his eight-year career.
A nice touch for collectors was the fact that Leaf slapped his "Big Boy" nickname on the front of the card, too.
1978 Topps Tony Dorsett Rookie Card
Estimated PSA 10 Value: $11,000
The 1977 NFL Offensive Rookie of the Year, Tony Dorsett would have a standout career for the Dallas Cowboys on his way to four Pro Bowl appearances and one Super Bowl victory.
Originally thought to be too small, Dorsett proved doubters wrong throughout his career demonstrating extreme versatility and explosiveness.
The 1978 Topps design is fairly straightforward in appearance but nonetheless Dorsett's rookie is a great-looking and important football card.
1986 Topps Jerry Rice Rookie Card
Estimated PSA 10 Value: $13,500
Last but not least, we've got the 1986 Topps Jerry Rice rookie card.
To be honest, this is probably my favorite card of any on this list regardless of value since Rice was one of my favorites growing up as a kid.
Between his and Montana's rookie card I don't know which is my favorite.
But that famous 1986 Topps design really makes this card pop although, again, those green borders can easily show wear and tear.
An incredible football card and one of the most iconic of the 1980's, the Jerry Rice rookie is a favorite of many collectors throughout the hobby.
Most Valuable Football Cards In Review
So, there you have it: the most expensive football cards that you're ever likely to encounter.
If you're lucky enough, that is!
Johnny Unitas, Joe Namath, Jim Brown, Bronco Nagurski, and Bart Starr are just several of the football greats that reside on this list of cardboard rarities. And their continued popularity and demand prove that football cards still do hold great value.
That is a fact not likely to end any time soon. Only a finite number of them still exist and as likely as it is that football will remain a very popular sport, collectors will do anything to get their hands on them.
The question is: where do you start on this list? With so many greats, how do you choose between them?
If you're a collector, just stick to what you love and collect only what you love. With that strategy, you can never go wrong!