60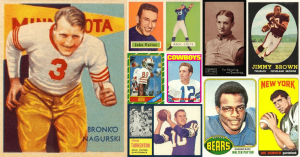 The most valuable football cards in the hobby can easily fetch upper five and six figure price levels.
Collectors simply go crazy over some of these cards.
Scarcity and fierce auction bidding competition can keep hobbyists searching for some of them for years.
If you're lucky enough to own one or more cards on this list then you've got something special.
While not as valuable in general as baseball cards, there's no question that collectors are willing to pay big bucks to get their hands on the cards on this list.
To build this list, we relied on PSA's Sports Market Report online price guide to include any football card they estimate to be worth more than $15,000 on the open market.
Let's jump right in!
Continue reading >