15 Most Valuable 1986 Donruss Baseball Cards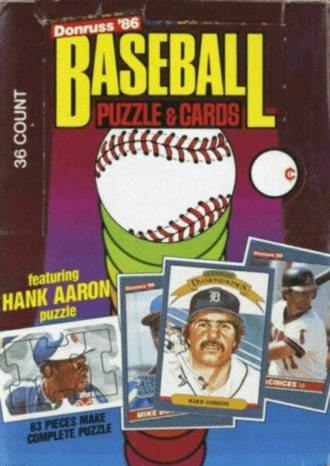 During the crazy market boom of the late 80s and early 90s, collectors ripped through packs of 1986 Donruss baseball cards for one reason:
the Jose Canseco rookie card.
Don't get me wrong, there were other decent rookie cards and plenty of Hall of Famers that made this set enjoyable.
But, every collector had their eye on the Canseco rookie.
And, they had their eyes on that black and blue-striped design, too, since it was almost hypnotic in its appearance.
This set brings back so many great memories of a crazy time in the hobby.
And in this guide, we take a look at the 15 most valuable.
Let's jump right in!
More...
Love sports cards?
Get my weekly newsletter with the latest hobby updates delivered straight to your inbox!
Before we get started, I do want to make it clear that most of the cards from this set do not have any value these days.
Like the 1986 Fleer and Topps sets, far too many of them were printed and the market is over-saturated with them.
So, for the cards on this list to be worth much, they'll either have to be graded by PSA to be in perfect, gem mint condition.
That means the card needs to be basically flawless.
Now that we got that out of the way, let's take a look at the top fifteen:
1986 Donruss #39 Jose Canseco Rookie Card
Estimated PSA 10 Gem Mint Value: $400
If you collected baseball cards in the late 80s and early 90s, then you know just how hot this card was back then.
Collectors were going crazy trying to get their hands on one of these as Canseco seemed destined for greatness.
The first Athletics player to capture the American League Rookie of the Year Award since Harry Byrd back in 1952, Jose Canseco followed a brief 1985 call-up with a year-long fireworks display at the plate in 1986.
Canseco's all-or-nothing slugging style was an instant hit in Oakland.
While he struck out a whopping 175 times in 682 plate appearances, he connected when it counted most, finishing fifth in MLB for home runs (33) and third in RBI (117).
And while he finished a distant 20th in the American League MVP vote, Canseco did earn his first of six career All-Star appearances.
Before his reputation preceded him and his connection to baseball's steroid era attached asterisks to his legacy, Canseco's sizzling rookie campaign was a clear window into what could be.
Two years later, the Bash Brothers would be forearm-to-forearm, and Canseco would be on top of the baseball world.
1986 Donruss #28 Fred McGriff Rookie Card
Estimated PSA 10 Gem Mint Value: $325
One of the more feared and respected power hitters of the end of the 1980s and early 1990s, Fred McGriff's 1986 debut in the Major League Baseball scene was all too brief.
The 22-year-old Toronto Blue Jays prospect made his MLB debut on May 17th, coming in for two innings as a replacement at first base.
The next day, he'd make his first appearance in the team's starting lineup as a designated hitter and logged his first MLB at-bat, a single which eventually led to a run scored.
All told, McGriff played just three games in 1986 with that one lone hit in five at-bats.
McGriff would get a much more extended look with the Blue Jays in 1987 in what became the start of a sterling six-year run of 30 home run campaigns come 1988.
Time will tell if the "Crime Dog" eventually gets the call to Cooperstown, as many believe his resume deserves it.
Prices of his Donruss rookie card have steadily been increasing over the years as a reflection of that sentiment.
1986 Donruss #512 Cecil Fielder Rookie Card
Estimated PSA 10 Gem Mint Value: $90
Cecil Fielder's 1986 season with the Toronto Blue Jays offered very little insight into what would be coming for the future home run king.
At just 22 years of age, Fielder looked over-matched at the MLB level.
He appeared in 34 games for the Blue Jays, slashing just .157/.222/.325 with four home runs and 13 RBIs in 83 at-bats.
While his raw power was evident, Fielder was far from a polished product.
He showed marked improvement in 1987 and 1988 before heading to Japan to play for the Hanshin Tigers on a million-dollar contract.
Fielder blossomed on the other side of the Pacific, crushing 38 home runs and earning the nickname, "Wild Bear."
Fielder returned to the Majors in 1990 with an absolute bang, leading all of baseball with 51 home runs for the Detroit Tigers.
It was the first 50 home run season by any MLB player since George Foster hit 52 for the Cincinnati Reds in 1977.
1986 Donruss #258 Nolan Ryan
Estimated PSA 10 Gem Mint Value: $80
The Ryan Express' staggering 27-year MLB career had its fair share of ebbs and flows, and his 1986 campaign with the Houston Astros technically falls more in the former category.
It wasn't a bad year altogether, but it wasn't the eye-popping stat grab of seasons prior or seasons to come.
Ryan finished with a 12-8 record, posting a 3.34 ERA in 178 innings pitched, his lowest inning count from 1982-1990.
Ryan still rang up 194 strikeouts on the year, finishing second in the Majors to teammate Mike Scott with 9.809 strikeouts per nine innings pitched.
He also finished third in baseball with just 6.017 hits surrendered per nine innings.
The Astros' veteran ace had a rough outing in Game 2 of the 1986 National League Championship Series against the New York Mets, taking the loss.
He rebounded with a 9-inning, 12-strikeout performance in Game 7, but he was matched pitch for pitch by New York's Dwight Gooden.
Ryan would not record a decision, and the Mets would eventually eliminate the Astros in 12 innings to advance to the World Series.
1986 Donruss #33 Andres Galarraga Rookie Card
Estimated "Without Accent" PSA 10 Gem Mint Value: $75
Estimated "With Accent" PSA 10 Gem Mint Value: $55
After a promising six-week debut with the Montreal Expos in 1985, Andres Galarraga looked primed for a breakout rookie season in 1986.
Picking up right where he left off the year before, the Big Cat got off to a fantastic start as he hit eight home runs and led all National League rookies with 25 RBI through early July.
However, Galaragga suffered a knee injury on July 10th that required arthroscopic surgery.
He'd return a month later, but the injury bug was quick to strike him again.
Galarraga pulled muscles in his rib cage the day after he was reactivated, placing him on the shelf for a few more weeks.
All in all, Galarraga's injury-plagued rookie campaign was still a solid success.
He slashed .271/.338/.405 with ten home runs and 42 RBIs in 321 at-bats.
In just two years, he'd make his first All-Star appearance and receive votes for the National League MVP award.
You can find his rookie card in one of two variations: one with an accent mark over his name on the reverse of the card and the scarcer and pricier version without the mark.
1986 Donruss #37 Paul O'Neill Rookie Card
Estimated PSA 10 Gem Mint Value: $70
A fourth-round pick of the Cincinnati Reds in the 1981 MLB Amateur Draft, Paul O'Neill was also still firmly entrenched in his career development in 1986.
The future five-time All-Star made his Major League debut the season prior, singling in his first at-bat on September 3, 1985.
He'd play in just five total games at the MLB level that year, notching four hits in twelve at-bats.
O'Neill's cameo during the 1986 MLB season was even briefer.
He appeared in just three games for the Reds with no hits and a walk in three plate appearances.
By 1990, the Columbus, Ohio native would be a pivotal contributor to Cincinnati's fifth World Series title.
What a difference a few years can make.
1986 Donruss #72 Kirby Puckett
Estimated PSA 10 Gem Mint Value: $60
Drafted in the first round of the 1982 MLB Draft by the Minnesota Twins, the late, great Kirby Puckett had his coming out party with the Twins in 1986.
In his first two seasons, Puckett established himself as a reliable singles hitter with very little in the way of power.
1986 changed all that.
Puckett posted his first and only 30-home-run season in 1986, bashing 31 en route to his first of ten consecutive All-Star selections.
He also slashed an impressive .328/.366/.537 in 161 games played with
over 200 hits (223), 37 doubles, 96 RBI, and a 142 OPS+.
Puckett's production earned him enough votes for sixth in the American League MVP race, his first Silver Slugger award, and his first of six Gold Gloves.
1986 Donruss #173 Don Mattingly
Estimated PSA 10 Gem Mint Value: $50
Coming off a stratospheric American League MVP-winning campaign with the New York Yankees in 1985, Donnie Baseball was on top of the baseball world heading into the 1986 season.
Rather than letting the laws of regression dictate things, he provided an MVP-worthy encore and helped lead the Yankees to a 90-win season and second-place finish in the AL East.
Mattingly finished second in the Majors to Boston's Wade Boggs with a .352 batting average and led all of baseball in plate appearances (742), hits (238), doubles (53), slugging percentage (.573), OPS (.967), OPS+ (161), and total bases (388).
In most seasons, that'd be enough for Mattingly to secure his second-straight MVP award.
However, he finished second to Boston Red Sox ace Roger Clemens in voting thanks to Clemens' historic and dominant year-long performance on the bump.
1986 Donruss #609 Tom Seaver
Estimated Green Stripes PSA 10 Gem Mint Value: $45
Estimated Yellow Stripes PSA 10 Gem Mint Value: $45
Tom Terrific's Hall of Fame career ended following a disappointing and abbreviated 1986 season, but not before everything came full circle for the three-time Cy Young Award winner.
At 41 years of age and years past his peak, Seaver logged an Opening Day start for the Chicago White Sox, the 16th and final Opening Day start of his career.
After 12 inconsistent outings with Chicago, he was traded to the contending Boston Red Sox before the deadline for Steve Lyons.
Seaver wasn't quite dominant in 16 starts for the Red Sox, but he held his own with a 5-7 record and 3.80 ERA.
It was a far cry from the best years of his career, but it was far from an embarrassing swan song.
As luck and fate would have it, Boston would match up with the New York Mets in the World Series, the team for which Seaver's star shone brightest.
He could not play in the series due to a knee injury, but he received a loud and thankful ovation from a grateful Shea Stadium crowd during player introductions before Game 1.
The Mets gave Seaver a look in June of 1987 when injuries besieged their starting rotation, but he officially called it a career after three poor outings for the Triple-A Tidewater Tides.
You can find this card in a variation with yellow stripes over his name on the front and also the less common variation with green stripes, although neither appears to carry a price premium over the other.
1986 Donruss #51 Rickey Henderson
Estimated PSA 10 Gem Mint Value: $50
Rickey Henderson's second season in a New York Yankees uniform was yet another testament to the brilliance of the future all-time stolen base king.
Henderson was named to his fifth straight MLB All-Star Game in 1986, leading the American League in both stolen bases (87) and runs scored (130) for the second-straight campaign.
The 27-year-old speedster also finished seventh in the Majors in walks (89) and extra-base hits (64), and his 28 home runs in 1986 ties for the most he'd hit in any full campaign (1990).
Rickey's honeymoon phase with the New York Yankees would end the next season when manager Lou Piniella called him out in the media for poor on-field effort.
By the end of the decade, the Yankees would trade Henderson back to Oakland.
1986 Donruss #112 Tony Gwynn
Estimated PSA 10 Gem Mint Value: $50
Tony Gwynn saw a lot of action at the plate in 1986 as he set career marks for games played (160), plate appearances (701) and at-bats (642).
Given so much opportunity, Gwynn answered the call by leading the league in hits (211), tying for the lead in runs scored (107), and cracking a then-career-high 14 home runs.
Remarkably, he remained as disciplined as ever at the plate, too, as he finished third in the league in batting average with a .329 clip while striking out just 35 times.
While his offensive production was certainly impressive, Gwynn stepped his game up on defense, too, and was rewarded with the first of his five career Gold Glove Awards.
1986 Donruss #210 Cal Ripken Jr.
Estimated PSA 10 Gem Mint Value: $50
Ripken's 1986 season is such a great reminder of how much of a team sport baseball is.
Despite nearly identical production numbers from the season before, his RBI and runs scored totals dipped noticeably.
His batting average and OPS were exactly the same and his OBP even ticked upwards.
Ripken's RBI and runs scored were down severely not really because of what he wasn't doing but more of what the rest of his Orioles teammates weren't doing: getting on base and scoring runs.
In fact, the team scored 110 fewer runs than they did in 1985.
Despite his teammates' struggles, Ripken earned his fourth consecutive All-Star appearance and Silver Slugger while also being the first Oriole besides Eddie Murray to lead the team in home runs since 1979.
1986 Donruss #647 Billy Beane Rookie Card
Estimated PSA 10 Gem Mint Value: $50
The former first pick of the 1980 MLB Amateur Draft, Billy Beane eventually found more baseball fame as the future Oakland Athletics general manager (and Moneyball mastermind).
After a tumultuous half-decade in the Mets organization in which he logged just 13 MLB at-bats while suffering from significant confidence and inconsistent production crises, the Mets sent Beane to the Twins after the 1985 season as part of a six-player deal.
Minnesota penciled Beane in as their starting left fielder over the returning Mickey Hatcher in Spring Training, but it wasn't meant to be.
Beane struggled mightily at the plate in 1986, slashing a paltry
.213/.258/.295 with three home runs and 15 RBIs in 80 games played (194 plate appearances).
Beane would appear in just 12 games for the Twins in 1987, and he'd be out of the Majors (as a player) by the end of Spring Training in 1990.
1986 Donruss #172 Roger Clemens
Estimated PSA 10 Gem Mint Value: $45
The 1986 season was the season that put Roger Clemens on the map.
After leading the American League in wins (24), ERA (2.48), WHIP (0.969), hits per nine innings (6.3), and striking out 238, Clemens won his first of seven career Cy Young Awards.
He also became the first pitcher to be named MVP since Vida Blue did so in 1971.
One of the most iconic moments of the season and in all of baseball history occurred on April 29 when Clemens struck out Seattle's Phil Bradley to become the first pitcher to strike out 20 batters in a nine-inning game.
"Rocket" Roger Clemens was indeed something special that season and history will regard his season-long dominance as one of the best pitching performances on record.
1986 Donruss #66 Dale Murphy
Estimated PSA 10 Gem Mint Value: $40
One of the best and most complete players of the 1980s, Dale Murphy continued a six-year run of absolute brilliance with another stellar season in 1986.
The Atlanta Braves outfielder earned his fifth of six-straight All-Star Game appearances and fifth and final Gold Glove in 1986, providing a spark for the Braves in all facets of the game.
He even earned a smattering of National League MVP votes for his efforts.
Murphy ended the 1986 campaign with a .265/.347/.477 slash line, 29 home runs, and 83 RBIs in 160 games (614 at-bats).
His raw offensive numbers were down in 1986 compared to the three seasons prior and his forthcoming 1987 campaign.
However, the eye test was a different story.
Murphy was still one of the most consistent and valuable players in baseball, and his worth to the Braves was borne out by much more than box scores.
1986 Donruss Baseball Cards In Review
Given the rebound in the market for sports cards from the 1980s, it's nice to see more interest in the 1986 Donruss set after it spent so many years in the gutter.
As you can see, there are some decent rookie cards to be found within the 660-card checklist and in top grade, they can still fetch a decent price on the open market.
Plenty of stars and Hall of Famers keep things interesting as well.
Within the set were also several different inserts and subsets, including:
Diamond Kings (#1 - 26)
Rated Rookies (#27 - 46)
And don't forget the three Hank Aaron puzzle pieces that came in each pack.
Whether you're a fan of the set or not, there's no doubting that it packs a ton of nostalgic value and is well worth the trip down memory lane.