11 Most Valuable 1989 NBA Hoops Cards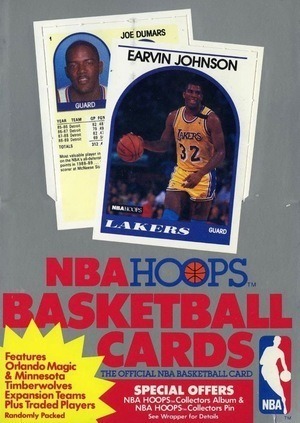 Although they may seem simple in design, 1989 NBA Hoops cards do not disappoint when it comes to showcasing some of the era's biggest superstars.
Michael Jordan, Larry Bird, Magic Johnson, and many other Hall of Famers are all shown in full-color photography cropped creatively in the shape of a key.
Not to mention, the set also contains one of the hobby's most iconic basketball rookie cards…
While their values dwindled over the years due to overproduction, a recent boom in the sportscard market and the release of ESPN's The Last Dance have helped increase their worth to respectable levels in top condition.
And in this guide, we look at the 11 most valuable.
Let's get started!
More...
Need help selling sports cards?
If you need help selling sports cards but aren't sure where to start, click the button below to learn how I can help!
I do want to be 100% clear that most of the cards in this set sadly have no value these days.
Like the 1989 Fleer set, there were just so many of these cards printed.
And to have any value at all, the cards on this list will need to be graded in PSA 10 gem mint condition...meaning they're nearly flawless.
Now that we've got that out of the way, let's take a look at the list:
1989 Hoops #138 David Robinson Rookie Card
Estimated PSA 10 Value: $300
For the first time since Topps issued cards for Pete Maravich and Calvin Murphy in their 1970-71 set, Hoops created a rookie card that featured a player during his rookie season.
However, Hoops was not breaking any rules because Robinson had already been a member of the San Antonio Spurs for two years.
During those first two years, though, he never played in an NBA game as he was busy serving out his two-year service obligation to the Navy after graduating from Annapolis in 1987.
Looking back, it's safe to say that this card is one of the most iconic basketball cards in hobby history.
Released in Series 1 boxes, the hype surrounding this card was incredible, and collectors could not wait to get their hands on one, searching pack after pack to pull it.
You used to find a PSA 10 example for around $100, but now they're going for $300 or more given the recent uptick in the sports card market.
1989 Hoops #200 Michael Jordan
Estimated PSA 10 Value: $100
Coming off his third straight scoring title the year before, Michael Jordan would pick up another one as he led the league with an eye-popping 33.6 points per game during the 1989-90 season.
As proof of just how great he was on the opposite end of the court, he would also lead the league in steals with 2.8 per game.
Jordan's reputation as an electric, dominant scorer on offense while being a tenacious defender at the same time is what many believe sets him apart in being the greatest player of all-time.
His cards have always been among the hottest cards in the hobby, and that trend is even truer today ever since the release of ESPN's The Last Dance documentary on the Bulls' 1997-1998 season.
I remember buying this card as a kid from our local card shop and still have it stored away in one of my binders from those days.
1989 Hoops #310 David Robinson Rookie Card
Estimated PSA 10 Value: $90
To try and build even more on the hype surrounding David Robinson, Hoops released another card in Series 2 boxes that featured him at the free throw line.
Even though it's still considered a rookie card, collectors don't place as high of a premium on it as they do the other one as it was released later.
Just how good was Robinson during his rookie campaign anyway?
Well, his 24.3 points, 12 rebounds, and 3.9 rebounds per game easily won him Rookie of the Year honors and certainly proved how incredibly talented he was.
1989 Hoops #21 Michael Jordan All-Star
Estimated PSA 10 Value: $90
MVP Karl Malone may have led the West to a 143-134 victory over the East during the 1989 All-Star Game in Houston, but, not surprisingly, Jordan's All-Star card is the most desirable in the set.
Had the East won, Jordan would've undoubtedly won MVP honors as he led the East in scoring with 28 points while tallying three assists and five steals.
I've always enjoyed the design of these All-Star cards as the stars scattered throughout the arch and logo in the upper-left create fantastic eye appeal.
1989 Hoops #351 Steve Kerr Rookie Card
Estimated PSA 10 Value: $75
Long before Steve Kerr was winning championships as a coach with the Golden State Warriors, he had quite a successful career as a player.
Selected in the second round of the 1988 NBA Draft by the Cleveland Cavaliers, Kerr would play for six different teams during his fifteen-year career.
However, most remember his playing days with the Chicago Bulls when he won three NBA Championships and later with the San Antonio Spurs, where he won two more.
While Jordan, Pippen, Duncan, and Robinson were making highlight-reel plays near the basket, Kerr's role was to spread the court and bury three-pointers with pinpoint accuracy.
Kerr still holds the NBA record for highest three-point shooting percentage.
1989 Hoops #266 Phil Jackson
Estimated PSA 10 Value: $50
I don't ever remember anyone giving this card a second look at the time.
Not only were coach cards never inspiring to begin with, no one had the slightest idea that Jackson would end up with eleven championships as head coach of the Chicago Bulls and Los Angeles Lakers.
However, the hype of The Last Dance documentary and the nostalgia surrounding those great Bulls teams have made this a $50 card in a PSA 10 holder.
After two years as a Bulls assistant coach, Jackson transitioned to the head coaching job heading into the 1989-90 season.
He never looked back from that point, and this card marks the beginning of his incredible head coaching journey.
1989 Hoops #244 Scottie Pippen
Estimated PSA 10 Value: $45
As fate would have it, the Seattle Supersonics would trade their 1987 NBA Draft pick, Scottie Pippen, to the Chicago Bulls for Olden Polynice and future draft pick options.
The Bulls were high on Pippen, and for good measure, as he would end up becoming one of the greatest players in NBA history and a critical component to multiple championship-winning teams.
During his third season in the league, Pippen was named to his first All-Star team and finished the 1989-90 season with 16.5 points, 6.7 rebounds, and 5.4 assists per game, testifying to his all-around skill set.
Several years ago, you could easily find PSA 10 examples of this card for less than $10, but now they sell for more than four times that amount.
1989 Hoops #150 Larry Bird
Estimated PSA 10 Value: $25
Needing surgery to remove bone spurs in his heels, Larry Bird missed all but six games during the 1988-89 season, and with chronic back problems, nobody knew if he'd be able to play at his usual superstar level.
Erasing any doubt, Bird went on to average 24.3 points, 9.5 rebounds, and 7.5 assists per game while also leading the league in free throw shooting percentage (.930) for the fourth time.
It turned out to be one of the best seasons of his career, and for his efforts, he'd be named an All-Star yet again, for the tenth time in eleven years.
A successful player, coach and executive, Bird's legacy as an NBA legend keep his cards on the radar for many collectors.
1989 Hoops #180 Hakeem Olajuwon
Estimated PSA 10 Value: $25
One of the greatest big men of all time, Hakeem Olajuwon wasted no time dominating the league as he turned in 20.6 points and 11.9 rebounds per game during his rookie 1984-85 season.
It was the first of twelve seasons in a row in which he averaged a double-double in points and rebounds, setting the tone for what we could expect from him each year.
His incredible agility, determination, and signature "Dream Shake" move made him a nightmare to defend.
As if that wasn't enough, he was just as lethal on the defensive end as he would lead the league in blocks three times and earned All-Defensive Team honors and incredible nine times.
He was particularly dominant down low during the 1989-90 season as he led the league in rebounds (14.0) and blocks (4.6) per game, both career highs.
1989 Hoops #166 Magic Johnson
Estimated PSA 10 Value: $25
Magic Johnson would earn his third and final MVP award during the 1989-90 season as he turned in 22.3 points, 11.5 assists, and 6.6 rebounds per game.
At 30 years old, the Laker icon was still at his peak.
However, after quickly moving past Olajuwon and the Rockets in the playoffs that year, he and the Lakers hit a brick wall when Kevin Johnson and the Phoenix Suns sent them packing after a 4-1 route in the semi-finals.
The energy and enthusiasm with which he played are on full display on this card as he brings the ball up the court with that huge, signature smile on his face.
His incredible court vision and "showtime" style of play made him one of the most exciting players in NBA history.
1989 Hoops #110 Charles Barkley
Estimated PSA 10 Value: $20
If Magic Johnson is known for his high energy and enthusiasm, Charles Barkley is known for his no-nonsense demeanor and dry sense of humor.
And that's what fans love about him.
The Round Mound of Rebound, The Chuck Wagon, The Incredible Bulk, The Leaning Tower of Pizza, or however else you may know him, collectors love the guy as his larger-than-life personality makes him easy to like.
Sir Charles was one of the most dominant power forwards in NBA history, and even though he was an MVP and 11-time All-Star, he disappointingly never won an NBA championship.
1989 NBA Hoops Cards In Review
With its 353-card checklist packed with Hall of Famers and a hobby icon in the David Robinson #138 rookie card, the 1989 NBA Hoops set offers plenty to love.
After all, any set in which guys like Jordan, Bird, Magic, Barkley, and other stars of the day appear will always bring up fond memories of the era.
If you're looking for a set with all those big names of the era that can be put together relatively inexpensively, this one is a good option.
Only time will tell if their values will continue to grow.