25 Most Valuable 1990 NBA Hoops Cards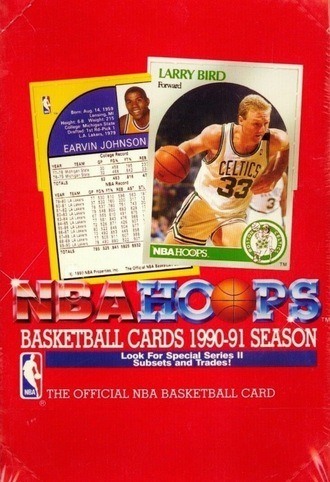 Looking back on the 1990 NBA Hoops cards set, I'd have to say it was easily one of my favorite basketball card sets of the era and maybe even all-time.
I thoroughly enjoyed the 1989 Hoops set that preceded it and those that came after. 
But, I simply couldn't get enough of these cards…
I even received several of the 1990 Hoops "Collect-A-Books" for Christmas one year, and I vividly remember reading through those miniature biographies of many of my favorite players over and over.
There were so many great stars of the day in this set, multiple cards with Michael Jordan on them, and even some fun subsets like the NBA Inside Stuff, Stay In School, and Just Say "No" To Drugs cards.
A kid had so much to love within this 440-card checklist.
And in this guide, we look at the 12 most valuable.
Let's get started!
More...
Need help selling sports cards?
If you need help selling sports cards but aren't sure where to start, click the button below to learn how I can help!
I do want to be 100% clear that most of the cards in this set sadly have no value these days.
Like the 1990 Fleer and SkyBox sets, there were just so many of these cards printed.
And to have any value at all, the cards on this list will need to be graded in PSA 10 gem mint condition...meaning they're nearly flawless.
Now that we've got that out of the way, let's take a look at the list:
1990 Hoops #65 Michael Jordan
Estimated PSA 10 Value: $550
The way things are going with all of Jordan's cards, this one may soon overtake the top spot on this list.
Two or three years ago, you could buy this card in a PSA 10 holder for $20-$30.
But, now, thanks to 'The Last Dance' documentary on ESPN, prices of Michael Jordan cards and those of many other players of that era have exploded to new heights.
I always enjoyed this card because of the image of Jordan throwing one down with authority as a helpless Miami Heat defender, who I think is Glen Rice but am not quite sure, looks onward.
Jordan's performance during the 1990-1991 season was incredible as he took home MVP honors, led the league in scoring, made the All-NBA and All-Defensive teams and led the East to victory over the West in the All-Star game.
He also won his first NBA championship after he and the Bulls defeated the Los Angeles Lakers 4-1.
1990 Hoops #223 Sam Vincent
Estimated PSA 10 Value: $450
As I mentioned earlier, Mark Jackson's card isn't the only one in this set whose value is driven by someone else appearing on it.
If you look closely at Sam Vincent's card, you'll see Michael Jordan down below, watching as Vincent soars above ready to lay one in the hoop.
Jordan's appearance on the card isn't such a big deal in and of itself; it's the fact that he's wearing a jersey with the number 12 on it, the only time he did so.
Before the Bulls and Magic played the game on February 14, 1990, during which this image was taken, someone allegedly stole Jordan's regular jersey with the number 23 on it, so he had to wear this replacement jersey instead.
It didn't contain his last name on the back of it either, obviously, but lucky for Jordan and the Bulls, the jersey was at least a good fit.
Despite Jordan putting up 49 points, the Magic ended up winning in overtime.
Interestingly, there are two variations of Sam Vincent's card in this set: the one distributed in first series packs with Jordan on it and another one the company changed up for second series packs that isolated Vincent dribbling up the court.
1990 Hoops #205 Mark Jackson
Estimated PSA 10 Value: $425
Mark Jackson was one of the best point guards ever to play the game but you may be surprised to find him at the top of this list.
The reason this card has garnered so much attention and such a hefty price tag has nothing to do with Jackson himself and everything to do with who is seated courtside to his left: the infamous Menendez brothers.
Sometime between August 20, 1989, when they murdered their parents in Beverly Hills, CA and their arrest on March 8, 1990, Lyle and Erik Menendez attended this game at Madison Square Garden in which this image of Jackson was snapped.
Pricing on this card has cooled a bit since this story first came to light but others in PSA 10 condition have previously sold for hundreds of dollars.
And it's not the only card in this set whose value is driven by someone else appearing on it other than the featured player...
1990 Hoops #5 Michael Jordan All-Star
Estimated PSA 10 Value: $300
While the base cards in this set featured grey borders, the All-Star cards turned things up a notch with their gold borders.
The city of Miami hosted the 1990 All-Star game that was packed with superstars and featured 19 future Hall of Famers across both conferences.
In fact, the entire 12-man roster for the East was comprised of future Hall of Famers with Jordan headlining them all.
Jordan and Charles Barkley each had 17 points as they lead the East to a 130-113 victory over the West, but it was Magic Johnson that took home MVP honors after scoring 22 points and putting on quite a show.
They say Jordan's fadeaway jumper was unstoppable and based on this image you can see exactly why.
1990 Hoops #358 Michael Jordan
Estimated PSA 10 Value: $250
Cards #355-381 in the set served as team checklists and featured artwork of each team's biggest star of the day as illustrated by various artists.
Ken Goldammer had the honor of creating the Bulls team checklist and did not disappoint with this beautiful image of MJ going up for a reverse jam.
It even looks like those are the Air Jordan III's that he's wearing but I'm not quite sure.
1990 Hoops #279 Shawn Kemp Rookie Card
Estimated PSA 10 Value: $175
Shawn Kemp exploded onto the basketball scene in the early 90s with his incredible rebounding skills and his explosive highlight-reel dunks.
His vertical leaping ability was off the charts and I even remember hearing stories as a kid about how he could snatch a quarter off the top of the backboard.
Kemp spent time with multiple teams throughout his NBA career but his most memorable were undoubtedly those he spent as a member of the Sonics.
He nearly won a title during the 1995-1996 season when he and teammate Gary Payton led Seattle to the NBA championship, eventually falling 4-2 to that infamous Chicago Bulls team that went 72-10 in the regular season.
Even though the image on this card isn't the most exciting, I still love the look and feel to it thanks to that old Sonics jersey and logo as Kemp looks like he's about to put a move on someone down in the post.
1990 Hoops #391 Gary Payton Rookie Card
Estimated PSA 10 Value: $150
Drafted second overall in the 1990 NBA draft, expectations were sky high for Gary Payton, the electrifying youngster out of Oregon State.
And, although he sputtered early on, Payton lived up to the hype and went on to develop into one of the greatest point guards in NBA history.
Nicknamed "The Glove," Payton became a shutdown defender and was selected to the NBA All-Defensive First Team nine times and remains the only point guard ever to be named the NBA Defensive Player of the Year.
His offensive skills were just as impressive as he routinely posted double-doubles in points and assists.
To put it simply, Payton was one of the most complete guards in the history of the game and his 1990 Hoops rookie card is must-have for basketball card collectors.
1990 Hoops #382 Michael Jordan's Playground
Estimated PSA 10 Value: $125
.
1990 Hoops #39 Larry Bird
Estimated PSA 10 Value: $100
.
1990 Hoops #113 Tim Hardaway Rookie Card
Estimated PSA 10 Value: $100
There are many special things about the game of basketball and one I've always admired is how not only the players themselves can gain fame, but so can their signature moves.
From George Gervin's "finger roll" to Kareem Abdul Jabbar's "skyhook" to Hakeem Olajuwon's "dream shake," there have been so many unstoppable moves.
One that I always admired in particular, though, was Tim Hardaway's devastating "killer crossover" that nearly broke the ankles of many defenders who tried to stop it.
While he still hasn't cracked the Hall of Fame, Hardaway was certainly one of the most explosive and feared guards of his era.
His ability to blow by defenders and attack the basket is on full display on his 1990 Hoops rookie card.
1990 Hoops #157 Magic Johnson
Estimated PSA 10 Value: $100
.
1990 Hoops #270 David Robinson Rookie Card
Estimated PSA 10 Value: $100
Despite the "Rookie of the Year" tag on this card, this is not David Robinson's rookie card since he had made his rookie card debut in the 1989 Hoops set the year before.
This card is simply a tribute to Robinson being named "Rookie of the Year" for his dominating 1989-1990 season in which he averaged 24.3 points and 12 rebounds per game.
While the Hall of Fame center's career was put on hold temporarily due to his Naval service commitment upon graduation from Annapolis, he went on to become one of the best centers in NBA history.
On this card, you can see what a chore it was to defend Robinson down low as he posts up on the Cavaliers' Larry Nance while Mark Price looks on in the background.
1990 Hoops #385 Magic Johnson & Michael Jordan Super Streaks
Estimated PSA 10 Value: $100
As a kid, I used to love watching NBA Inside Stuff on television as Ahmad Rashad reviewed highlights from previous games and interviewed players on a wide range of topics.
So, I was excited when I first saw these NBA Inside Stuff cards in the 1990 Hoops set; there were a couple with Michael Jordan on them (including this one), and I think Karl Malone was riding a horse on one of them.
Anyway, this one that was dubbed "Super Streaks" paid tribute to a couple of streaks that Jordan and Magic Johnson were chasing heading into the 1990-1991 season.
Johnson was looking for his third straight MVP while Jordan was looking for his fifth straight scoring title.
The good news for Jordan was that he kept his streak alive, but unfortunately for Magic, his streak was broken up by...Jordan.
1990 Hoops All Rookie Team Card
Estimated PSA 10 Value: $100
Technically, this card isn't part of the set checklist since it was part of a mail-in offer listed on packs of regular 1990 Hoops cards.
The card pays tribute to the 1989-1990 All-Rookie Team that consisted of David Robinson, Vlade Divac, Pooh Richardson, Tim Hardaway and Sherman Douglas.
Robinson is shown on the front of the card hoisting his "Minute Maid Orange Soda NBA Rookie of the Year" trophy overhead while the other four players appear on the reverse side.
1990 Hoops #2 Larry Bird All-Star
Estimated PSA 10 Value: $75
.
1990 Hoops #18 Magic Johnson All-Star
Estimated PSA 10 Value: $75
.
1990 Hoops #109 Dennis Rodman
Estimated PSA 10 Value: $75
.
1990 Hoops #127 Hakeem Olajuwon
Estimated PSA 10 Value: $75
.
1990 Hoops #225 Charles Barkley
Estimated PSA 10 Value: $75
.
1990 Hoops #248 Drazen Petrovic Rookie Card
Estimated PSA 10 Value: $75
.
1990 Hoops #69 Scottie Pippen
Estimated PSA 10 Value: $60
.
1990 Hoops #292 Karl Malone
Estimated PSA 10 Value: $50
.
1990 Hoops #36 Dominique Wilkins
Estimated PSA 10 Value: $40
.
1990 Hoops #203 Patrick Ewing
Estimated PSA 10 Value: $40
.
1990 Hoops #168 Glen Rice Rookie Card
Estimated PSA 10 Value: $30
Ever since Glen Rice led the Michigan Wolverines to an NCAA title in 1989, one thing was clear: he knew how to score.
His record of 184 points that he scored in that NCAA tournament still stands today.
Rice's ability to score carried right over into the NBA without a hitch, and throughout the 1990s, he was consistently one of the premier shooters in the game.
Like Hardaway, Rice may not be a Hall of Famer but as one of the game's biggest stars throughout the 1990s, his rookie card remains popular enough to be worth around $15 in a PSA 10 holder.
1990 NBA Hoops Cards In Review
As you can see, some of the cards in this set can be worth quite a bit in top condition while some of them are barely worth enough to cover the cost of grading.
Like many sports cards of this era, they were heavily produced in such large quantities that the market is still flooded with them.
But, monetary value doesn't have to be the main driver int his hobby and nostalgic factor can still be a huge draw with this set.
Overall, the checklist contained 440 cards in total that highlighted some of the best players of the era and of all-time.
In summary, if you're looking for a basketball card set with a lot of star power that you can acquire cheaply then this is one for you.